Cat Cora: Any Additional Kids Will Be Adopted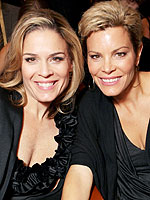 Eric Charbonneau/WireImage
While Cat Cora and wife Jennifer aren't ruling out the possibility of expanding their brood, they've eliminated at least one way in which it could happen. "The only way Jennifer and I would have another child is if we adopt," the 42-year-old Iron Chef star tells PopEater.
The couple tried to adopt before welcoming son Zoran, 6, but found that "it is very difficult for same-sex couples." Undeterred, Cat says it is the route they will pursue should they elect to have a fifth child.
"We have agreed that if we ever wanted more children, we would only do it by giving back and adopting."
In the meantime, Cat says that she and Jennifer have their hands full with Zoran and his little brothers Caje, 2 ½, Thatcher Julius, 10 months, and Nash Lemuel, 6 months.
"We love our four boys," she proclaims. "We are so blessed."
"Of course, it is a challenge for me to juggle everything and be home as much as possible as well — but it is a rowdy, busy household, but I wouldn't have it any other way."
Source: PopEater