Tom Brady Is Loving Life With His Boys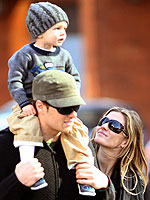 Bauer Griffin
Football season may be over for the New England Patriots, but their star quarterback Tom Brady is still getting plenty of exercise on the home front!
Telling Extra that he delights in roughhousing with his 2-year-old son John Edward Thomas, the new dad is counting down the days until the family's newest addition — 8-week-old Benjamin — joins in on the fun.
Currently enjoying the offseason, Tom is taking full advantage of his rare downtime to spend with his wife Gisele Bündchen and the boys. "I like to spend time with my family and friends and get a little rest because, obviously, during the football season, there's not a whole lot of that!" he says.
When it is time to hit the field again, however, Jack and Benjamin will be in on the action, supporting their dad on the sidelines — and the proud papa says there's nothing he loves more.
"It's a great thing to see them run around at the football game — or at least one of them run around," he raves.
"For a long time, I didn't know when I was going to be a father, and now I have two boys."
Jack is Tom's son with actress Bridget Moynahan.
Source: Extra
— Anya