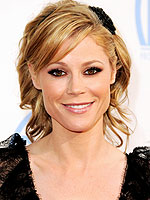 Jordan Strauss/WireImage
The producers of Modern Family are having their fair share of fun at star Julie Bowen's expense, the actress joked to Celebrity Baby Blog exclusively.
In one recent scene, Julie appeared in her bra and underwear and in an upcoming episode there will even be an "incident in a public place with nudity," she reported, musing:
"I don't know. I think they just think it's funny that I had twins and — maybe they're saying — 'She fought to lose the weight, now we're just going to get her naked as much [as possible].' I have no idea."
A modest Julie was then quick to downplay her dramatic postpartum slim-down. "There's loose flesh in places most people shouldn't have flesh," she points out. "You know what? I've given birth. They'd better take care of me when I'm old, that's all I can say."
In the meantime, Julie is still very much taking care of Oliver McLanahan, 2 ½, and fraternal twins John and Gus, 9 months next week, the latter of whom are teething — and making mom earn her stripes along the way!
"[They're] biting me while breastfeeding," Julie, 40, shared. "How's that for fun?" Unfortunately, it's a phenomenon she said she is all too familiar with. Julie added,
"My older one did the same thing sometimes. It's not a party but you get past it."
Oliver, John and Gus are Julie's children with husband Scott Phillips.
– Missy with reporting by Scott Huver