CBB Chats With Tori Spelling & Dean McDermott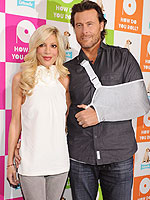 Michael Simon
With two young kids, multiple books, television movies, promotional deals and a reality show between them, Tori Spelling and Dean McDermott have limited free time!
Luckily, they recently carved out a few minutes for Celebrity Baby Blog, opening up about their little ones Liam Aaron, 2 ½, and Stella Doreen, 20 months next week (as well as Dean's son Jack Montgomery, 11), and their favorite family traditions.
Though Tori grew up in the spotlight, she takes pride in her normal family — and we love watching them grow here on CBB!
Click below to read our interview!

How are Liam and Stella doing?
Dean: They're great! They're getting big — growing like weeds!
How do they get along? Is this a fun age?
Dean: They're like best friends. They do everything together. Stella is obsessed with Liam, and they're both obsessed with their big brother, Jack.
Tori: At this point you can't really tell them apart, actually. A lot of people who don't know us see them out and think they're twins. Stella's pretty tall for her age, and her communicative skills are unbelievable. It's amazing how having an older brother has helped her. Everything he says, she says. She even recites the complete ABCs.
What inspires Stella's style? Do you have trouble getting her dressed?
Tori: She's super girly. At 19 months, which I think is early, she's getting into saying "no" to things. She's starting to want to pick out her own jacket and shoes. She actually has really good taste (laughs), and is good with her color coordination — she knows the names of colors already! I have to admit, I'm pleased she has good style.
Do you have a favorite baby product?
Tori: Both kids are obsessed with a blanket called the Ambajam. Liam calls it his "beady." It's a super-soft blanket that comes in three sizes. So they have a small one they can carry around, a large one they can each sleep with in their cribs, and a medium they take on walks. Liam has turquoise, and Stella has pink. They're so well-priced and cozy, that I even slept with one on the plane! Dean and I have our own beadies.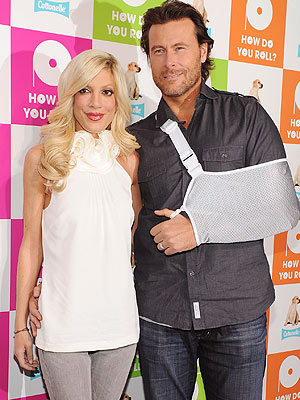 Michael Simon
Do you have a go-to family meal? How do you get your kids to eat healthfully?
Dean: Our go-to-meal is macaroni and cheese with broccoli (laughs). We make a lot of dishes — you try and incorporate everything into one meal.
Tori: I make lots of casseroles that have protein, veggies, carbs and good fats all together. We also make a lot of pasta dishes because we can sneak the broccoli and chicken into the dishes.
What's Liam and Stella's bedtime routines?
Tori: We like to read to them, and we talk about "getting cozy," which is when we tuck them in. Stella goes down around 7:30 p.m., and Liam around 8:30 p.m.
How are you instilling family values in your kids?
Tori: The most important thing to us is spending family time together, and communicating. We try to really carve out special time together, since Dean and I both have busy schedules. It's about the quality, not the quantity. It can be hard! But we make sure we have that special time together every day, and really utilize it.
Do the kids find it normal to be photographed? How do you deal with paparazzi?
Dean: We just protect them as best we can. We try to keep them out of situations that aren't kid-friendly — often paparazzi are in places kids shouldn't be. But they've grown up with it so far, so it's nothing out of the norm for them.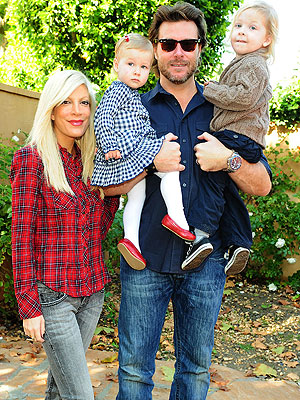 Albert Michael/Startraks
What types of parenting decisions do you have to make on a daily basis that other moms might not need to think about?
Tori: Probably, just as far as going out in public, keeping an extra eye on the situation. People recognize them, which is different. But we are a normal family! We do things the same way as everyone else — the only difference is that we live in Hollywood. But we like to think of ourselves as a typical family, and definitely function that way.
Dean, do you see a difference between American and Canadian parenting styles?
Dean: No, in fact I don't see many differences between Americans and Canadians, period. Although, we do know how to dress our children extra-warmly!
Do you hope for more children in the future?
Dean: We'll definitely have more, it's just a matter of when. I'm giving T a break! I've had her pregnant for the past two years. It's just great to enjoy time with our children now, because they grow so fast and we're so busy. We want to take as much time with them as we can.
Tori: So often people say the hardest stage is when they're newborns, but I think right now is most challenging. They're now developing their personalities, and they have the ability to challenge you. You have to be on your toes with answers in their formative years, and you have to be careful of how you answer questions, or handle situations. They're into everything, and with two that are basically the same age, we want to wait a bit before we decide on a third.
Tori, where do you get all your fun, crafty party ideas?
Tori: I just see things that inspire me — I'm into creating! I love crafting and cooking, doing all of that. If I ever had the time to take on another job, being a party planner would be high on my list.
Dean: She's amazing at it all.
Tori: Well, who best to do it for but our two small children?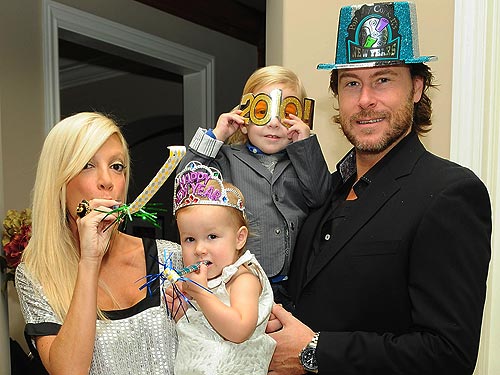 Albert Michael/Startraks
We've heard about the fifth season of your reality show, which takes you on a road trip. Did you start filming yet? Was it tough traveling with the kids?
Tori: We're really excited! The cross-country trip is done, so that will be in the first two episodes of the new season. It was amazing — it's something we've always wanted to do, and something we wanted to do as a family. We figure the best time to do something like that is when the kids are young, and their little schedules are flexible.
Dean: They fared really well, driving for five days straight in a big RV. They enjoyed it!
Tell us about your work with Cottonelle. How did you decide to team up?
Tori: Well the over/under is an actual debate we have going in our home. I'm team over, Dean is team under. When Cottonelle approached us looking for a couple to relate to this situation, we felt we were the perfect choice. We go back and forth on it, so decided we'd let America choose how we finally flip our paper. It's appropriate — since we're on TV for America, might as well open our bathroom to America now, too.
So what rules in your house, over or under?
Tori: It depends on who's placing the roll! If I leave it empty, which I do often, he changes it first.
Dean: It also depends on which bathroom we're talking about. In our master bathroom we have a two-roll holder, so I'll do one over for T, and one under for me.
Tori: It seriously drives me nuts!
Since Liam is now potty training, is he in on it too?
Dean: The kids are in on it — I'm trying to get to Liam!
Tori: It's easy to help us decide. Go to cottonellerollpoll.com and tell us, over or under. Hopefully America will vote in favor of team over…
Dean: …under! And also check out funnyordie.com — we did a spoof video on the topic for Cottonelle.