Jessica Alba Says Honor's Favorite Word Is 'No'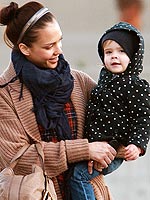 Flynet
Honor Marie Warren is flexing her soon-to-be 2-year-old muscles, according to mom Jessica Alba.
During a Wednesday visit to Live with Regis and Kelly, the Valentine's Day star said that her 19-month-old daughter is "very busy," "likes to do everything her way," and has entered an opposition phase that peaks at dinnertime.
"She loves saying 'No,'" Jessica explained. "It's her favorite word."
"Now, she won't eat unless I tell her not to eat. I have to use reverse psychology. I'm like, 'Don't eat your vegetables!' And she looks at me and, in defiance, eats her broccoli."
When asked how she and husband Cash Warren arrived at baby girl's name, Jessica revealed that it wasn't entirely their idea.
"I told my girlfriend that I was pregnant, early on, and she was like, 'I'm not having any more kids but if I was going to have one, I would name her Honor,'" Jessica explained. "It was just random and it stuck with us. We liked it."
As for whether or not the couple envision Honor following in Jessica's footsteps and pursuing a career as an actress, Jessica expressed doubt. "I will tell her to be an actress and she'll do the opposite," she quipped before adding,
"After she's done with college she can figure out what she wants to do. My father-in-law [Michael Warren] is an actor [so] it's kind of in the family."
Valentine's Day hits theaters Feb. 12th.
Source: Live with Regis and Kelly