Jennifer Garner on Separating Fame From Family Life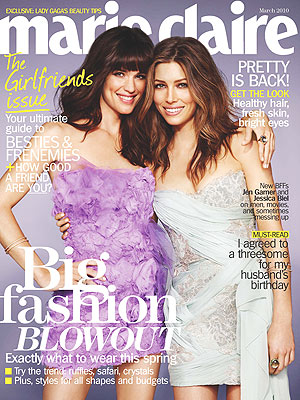 Courtesy Marie Claire
Although the political aspirations of husband Ben Affleck remain a mystery, Jennifer Garner says she's ready to heed the call if and when it comes!
"People do tell me I'd be a good politician's wife because I'm such a Pollyanna and a Goody Two-shoes," she admits in the March issue of Marie Claire.
Those eager to slap the "has it all" label on the 37-year-old actress would be mistaken, however. Jennifer quips,
"Well, I haven't showered today. I just want to throw that into the conversation. So I'm not sure I do have it all."
In the interview, conducted alongside her Valentine's Day costar Jessica Biel, Jennifer says that the movie was a welcome departure in more ways than one.
"When I do work, it's always one woman and a bunch of men," she notes, expressing gratitude for the opportunity to forge a friendship on the set.
The role also lured Jennifer out of a self-imposed maternity leave, following the birth of daughter Seraphina Rose Elizabeth, 13 months this week. Jennifer explains,
"I haven't worked much at all lately, to tell you the truth. The two weeks I worked on this movie were the only two weeks I've worked in about a year-and-a-half because of being pregnant and now having a 1-year-old."
Click below to find out how daughter Violet learned that "Mom" and "Jennifer Garner" were one and the same.

Indulging in a glass of wine — "I never go out much anymore," she confesses — and periodically checking for text messages from a nanny, Jennifer says that her fame has only recently become apparent to her firstborn.
When a classmate recently informed Violet Anne, 4, that "Jennifer Garner lives in your house," the preschooler was confused, later asking her mom, "Who is Jennifer Garner and why are people saying she lives with us?" Jennifer adds,
"She just knows me as Mom, so I did have to explain to her for the first time about the difference."
Valentine's Day opens February 12.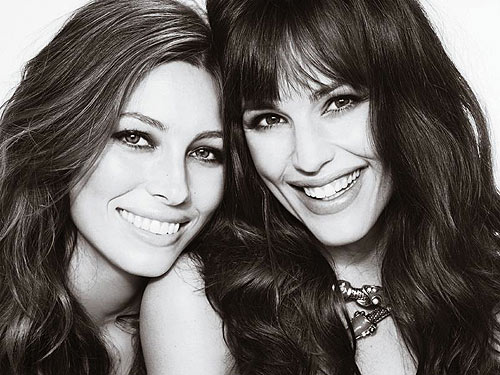 Courtesy Marie Claire
Source: Marie Claire, March issue