Brendan Fraser Says Children Are 'The Best Actors'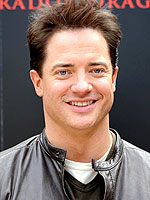 INF
In a recent appearance on The Rachael Ray Show, actor Brendan Fraser revealed that his three sons are "vastly, vastly different."
Son Griffin Arthur, 7, "has red hair" and "[is] enormous," Brendan, 41, reports, while son Holden Fletcher, 5, "is brunette and is running for mayor." Youngest boy Leland Francis, 3 ½, "is a professional fire plug," according to dad.
"He goes through brushes and briers and comes out on the other side scratched and smiling. It's all good!"
When asked if any of the boys appear to be destined for a career in Hollywood, Brendan opined that "all children are actors, and I think they are the best actors."
"They're like little Greek tragedians. They're so pure. 'No, I will not go to bed! No!' 'I love you so much!' 'I hate you!' It's rage, fear, lust, joy. That's what they teach in actor's school, and all kids do is that."
Whether or not Griffin, Holden and Leland will use Brendan's career for inspiration remains to be seen, however. "I think they've seen George of the Jungle," he joked. "I know that. To tell you the truth, the first time they saw George of the Jungle they walked out!"
The boys are Brendan's children with ex-wife Afton Smith. His new film Extraordinary Measures is in theaters now.
Source: The Rachael Ray Show
Click below to watch the video!