Ellen Pompeo Shows Off Stella Luna!
From long days on set as Meredith Grey to first-time motherhood, nothing is stopping Ellen Pompeo. That said, during a Wednesday appearance on The Ellen DeGeneres Show, a radiant Ellen — showing off her svelte body after baby — was quick to point out that juggling it all requires an extra set of hands! "I have an amazing baby nurse," she says. "I couldn't do it without her."
Despite the hired help, Ellen and her husband Chris Ivery are determined to be hands-on parents when it comes to raising their "doll" of a daughter Stella Luna, 4 months. And, according to the doting mama, Chris has already fallen for his little lady!
"Chris loves dressing her up like him. He's like, everyday, 'Look. We look alike,'" the Grey's Anatomy star laughs. "So he goes out and buys her clothes that look like his clothes."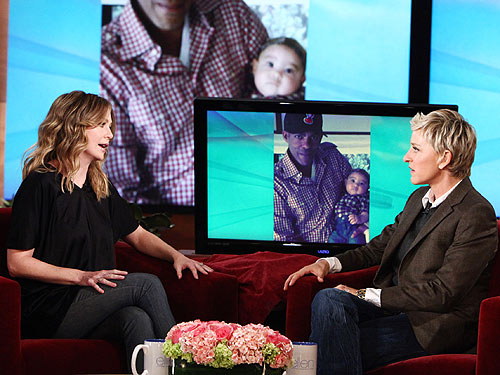 Michael Rozman/Warner Bros
Showing off a sweet photo of the matching father-daughter duo, the actress admits it's not a coincidence that baby girl's introduction is via The Ellen DeGeneres Show. With Ellen D. noting that the paparazzi has certainly been clamoring for the first shot, Ellen P. reveals her hidden agenda!
"I have to give you the first picture because because I get to leave here with underwear with my name on it that my husband will wear around and it is such a good ego boost," she confesses.
"He runs around the house in the 'Ellen' underwear. It's the highlight of my life."
And thanks to the host, Ellen's ego is about to get a whole lot bigger: the new mama received a onesie for baby Stella that read, "I love Ellen."
Grey's Anatomy airs Thursday nights at 9 p.m. on ABC.
Source: The Ellen DeGeneres Show
— Anya