Camila Alves: 'Things Are Not Back to Normal Yet'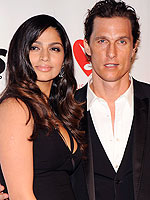 Frank Micelotta/Getty
Proving that a 40-day break does a body good, Camila Alves stepped out with partner Matthew McConaughey over the weekend in support of MusiCares. Discussing her new Shear Genius hosting gig, the 27-year-old admitted to USA Today that filming the show last spring was tough.
"I had just found out I was pregnant," she notes, "and I was sick during shooting and couldn't tell anybody."
"Everybody was asking, 'Why is she drinking so much club soda?' And the clothes were not fitting anymore."
Speaking to Us Weekly, Camila credits "flowy stuff" and "layers" for helping hide the leftover weight she is carrying from daughter Vida, 4 weeks, but there was little to be found on the night in question!
"We've got Spanx," she explained. "We've got things that can help." She added,
"I think that after you have a baby, you still have a little belly. Things are not back to normal yet."
When asked the secret to her success, Camila suggested that moderation is key. "Don't do anything crazy," she said. "Try to keep it basic."
In addition to Vida, the couple are parents to son Levi, 18 months.
Season three of Shear Genius premieres tonight at 10 p.m. on Bravo.