Victoria Beckham's Cafeteria Career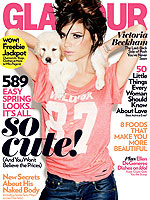 Courtesy Glamour
Free time is practically nonexistent for Victoria Beckham, who — in addition to running her fashion line and the relaunch of Victoria Beckham Denim — recently tried her hand at judging American Idol auditions (and is back tonight for more!). However, when there's a moment to spare, the former Spice Girl lives for her brood of boys.
"I travel a fair amount, and when I'm here in L.A., everything revolves around the kids," she reveals in the March issue of Glamour.
Making true on her promise, Victoria doesn't let the school day separate her from sons Brooklyn Joseph, 10 ½, Romeo James, 7, and Cruz David, 5 this month — she can often be spotted around the halls — and in the cafeteria — offering a hand where needed!
"If I'm not working, I go to the school and help serve lunches to the children," she says. "They just love that. It's like, 'Oh, there's Mummy serving me!'"
A mother of three boys, Victoria has made it no secret that she would love to welcome a baby girl to the family. And until the day she can share her impeccable sense of fashion with her daughter, Victoria has settled for her youngest son's classmates!
"The other day I was there reading to Cruz's class," she recalls. "All the little girls were saying, 'We really like your dress.' And it was cute because I don't have a girl."
Brooklyn, Romeo, and Cruz are Victoria's sons with soccer star David Beckham.
Source: Glamour; March issue
— Anya