Roger Federer Says Fatherhood 'Enhances' Grand Slam Win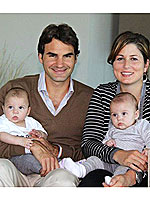 Courtesy Roger Federer
He's won the Grand Slam singles title 15 times, but when Roger Federer defeated Andy Murray at the Australian Open on Sunday — bringing his total to 16 — it was the first time he did so as a dad. For the new father, taking home the trophy has been that much sweeter now that he is able to share it with his 6-month-old identical twin daughters, Charlene Riva and Myla Rose.
"Having kids and being a father now and being married enhances everything," the tennis star, 28, tells ESPN. "I'm such a happy person today to see how well everything is working out for me. It just makes me extremely happy, extremely relaxed and it allows me to play good tennis, and I couldn't ask for more."
After celebrating his win with close friends — and champagne! —  at his hotel, Roger called it a night and headed back to his room at sunrise. Before he hit the pillow, however, he spent some quality time with a bright-eyed Myla, much to his delight.
"I quickly was able to see her, even though she's got obviously no clue what happened," he says.
"She couldn't care less, but I still felt it was a special moment to hold her in my hands, in my arm after what happened, and it was nice."
And while it certainly was a momentous occasion, being greeted by his baby girls isn't anything new. Since Roger and his wife Mirka welcomed the girls last July, the doting dad has never spent a night away from his daughters.
"I feel like I've always had a good distance from the game," he notes.
Source: ESPN
— Anya