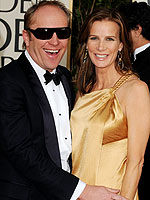 Steve Granitz/WireImage
For Brothers & Sisters star Rachel Griffiths, there is no closely guarded secret when it comes to losing the baby weight. "I think it's just three kids and working full time," the 41-year-old actress recently mused to Us Weekly. "Honestly, I haven't thought about it."
If there was a motivating force behind her slimdown, however, Rachel hinted that the honor rests with none other than Gilles Marini. Upon learning she would need to film a love scene with the Dancing With the Stars finalist, Rachel said she was forced to take stock!
"I think I looked in the mirror at that moment and said, 'Oh wow! Maybe I should start working out,'" she admits.
"I said, 'I'm going to call PETA because it must be cruelty to animals to have a woman who just had a baby six months ago to have to do a bed scene with Gilles.' It's ridiculous!"
At the same time, Rachel said she isn't the type to go overboard when it comes to diet and exercise. To that end, she noted,
"I tend to not get neurotic about it so I can meet my family's needs and my baby's needs. But, I am starting to feel like I want to get a little stronger and fitter."
From the sound of things, Rachel isn't the only member of the family taking an interest in physical fitness! Of new baby Clementine Grace, 7 months, Rachel said,
"She's great. She's not crawling yet, but she appeared to be doing downward dog yesterday, which I was pretty impressed with."
In addition to Clementine, Rachel is mom to Banjo Patrick, 6, and Adelaide Rose, 4 ½. All three are her children with husband Andrew Taylor.
Source: Us Weekly