Tyrese: Keep Divorce Drama Away From Kids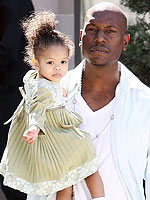 Rafael Guimaraes/Ramey
When Tyrese Gibson agreed to take on the role of Kyle Williams — a divorced father who finds himself in the middle of a custody battle — in his latest movie Legion, he did so without knowing how closely the storyline would mirror his own life only months later.
"It's almost like this film predicted that I was gonna go through that. I actually went through it in the movie before I went through it in real life," he tells Celebrity Baby Blog exclusively while attending the film's premiere in Hollywood recently.
Hesitant to divulge details surrounding his relationship with ex-wife Norma Gibson — with whom the actor welcomed daughter Shayla Somer, 2 ½ — Tyrese is far less guarded when it comes to insisting fathers step up to the plate.
"At the end of the day, this is what I would say to all fathers: Don't allow the conflicts between [you and] the mother of your child … to get in the way of your responsibility as a father."
Urging fellow dads to "be a man" and "be a father," the 31-year-old says there are no regrets when it comes to his relationship with Norma. "Your responsibility when you coexist and create a child is to be a father — period — because that child is affected by your irresponsibilities if you decide to be irresponsible," he explains.
Adding that he adores Shayla, Tyrese admits his feelings for Norma run much deeper as a result.
"I still love the mother of my child and that will never change."
Legion is now in theaters.
— Anya with reporting by Jessica Wedemeyer