Gisele Bündchen: Benjamin Is 'A Little Angel'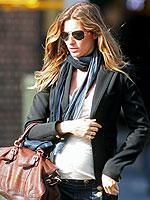 Bauer-Griffin
Gisele Bündchen may not be getting much sleep since giving birth to her first child, Benjamin, with husband Tom Brady in December — but she doesn't mind.
"In these first months, the baby breastfeeds twice in two hours or three times in three hours. It is really tiring, but it's such a special moment that I am enjoying to the maximum," the supermodel, 29, says in a new interview with Brazil's Folha de Sao Paulo newspaper. "I have dedicated my days completely to him."
Gisele, who calls her 8-week-old son "a little angel," says she's been changed by becoming a parent. "To be a mother is a magical experience. The whole body is transformed by this," she says. "It really is the miracle of life. I am really happy!"
She's already gone back to work, posing for a photoshoot for the Brazilian label Colcci just six weeks after giving birth, but she's not using a nanny, instead relying on her family to help her.
"My mother [Vania] accompanied me since before Benjamin's birth," she says. "She gave me great support. I couldn't ask God for more support than this."
The supermodel also reveals that she didn't take her pregnancy as an excuse to indulge in junk food. "I kept myself in good shape during the whole pregnancy, eating healthily, meditating, and doing exercises," says Gisele, who did yoga and kung-fu until November. "I put on a little weight, but kept using almost the same clothes, with small adjustments on the stomach."
Of course keeping fit since the baby arrived has been a challenge. "I still haven't had time to go back to doing exercise. In the first few months, everything turns around the baby. But little by little you recover your form," she says. "What helps me is the fact that I didn't put much weight on, and that I had a natural birth and am breastfeeding."
— Charlotte Triggs