Dave Grohl Says Fatherhood 'Changed Everything'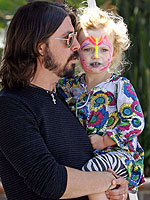 PhamousFotos/Splash News Online
In a recent installment of TIME magazine's '10 Questions' column, Foo Fighters frontman and founder Dave Grohl said that becoming a father has left an indelible mark on his approach to making music. Most notably, of course, is the lifestyle change since welcoming Violet Maye, 3 ½, and Harper Willow, 9 months.
"I used to tour nine months out of the year," he notes. "Now I don't like being away from my kids for more than 12 days."
"It's changed everything that I do," Dave, 41, continues.
"When you have kids, you see life through different eyes. You feel love more deeply and are maybe a little more compassionate. It's inevitable that that would make its way into your songwriting."
Violet and Harper are Dave's children with wife Jordyn Blum Grohl, whom he married in 2003. The Foo Fighters Greatest Hits album is available now.
Source: TIME