Paul Bettany: 'Film Sets Are Great For Children'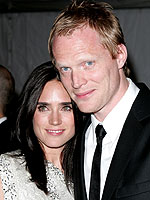 James Devaney/WireImage
In the new film Creation Paul Bettany stars alongside wife Jennifer Connelly, working together for the first time since 2001's A Beautiful Mind. The couple's children Stellan, 6, and Kai, 12, are always game for such projects according to Paul, who quips that while "film sets are great for children … working on them is a different thing."
When asked if the boys had double the fun this time around, Paul, 38, said that subject matter is key. He explains,
"Frankly my son likes it when I'm on a set where I'm killing vampires. He doesn't come to the set of The Young Victoria and say, 'That was great when you roundhouse kicked the queen in the head.'"
Of course not every film set features an orangutan, either! Sharing scenes with his furry costar didn't lead to anxious moments for Paul, however, who insists that his "heartbeat tends to lower when cameras are on."
"I'm anxious in everyday life. I'm anxious about my kids' health, my health, whether I'm going to get the job I want, the chicken's going to turn out all right, the dog's going to poop in front of the paparazzi."
Paul's new movies Creation and Legion are in theaters now. Kai is Jennifer's son with ex-boyfriend David Dugan.
Source: Cinema Blend