Matthew Broderick Says Twins Are 'Pretty Tiring'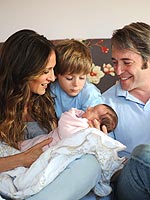 Robyn Layton
In his new film Wonderful World, Matthew Broderick portrays a has-been children's folk singer and divorced dad struggling to maintain a connection with his only daughter. The latter aspect of the character held much more appeal for the real life dad-of-three than the former, he says in a new interview.
"Anything about a father and a kid becoming distant, definitely interests me a lot," he explains. "The play I am doing now, The Starry Messenger, is about that too a little bit."
Twins Marion Loretta Elwell and Tabitha Hodge, 7 months, are "pretty tiring" yet also "pretty good," according to Matthew, 47, who adds that the girls are good sleepers.
"My wife [Sarah Jessica Parker] was away working [on the Sex and the City sequel due out this summer] and I was doing the play, so we've had to leave them a lot, so we still have a baby nurse, too. So I have to admit we are not doing it all ourselves."
In addition to the twins, Matthew and Sarah Jessica are parents to 7-year-old James Wilkie.
Wonderful World is in theaters now.
Source: NewsBlaze