Julianna Margulies Dishes On Her Good Wife Sacrifice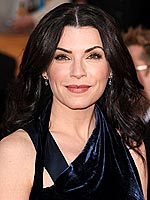 Steve Granitz/WireImage
The Good Wife has been very, very good to Julianna Margulies. Fresh on the heels of her Golden Globes and SAG Awards wins for best actress in a television drama, the former ER star tells the Times Online that she agreed to the role of Alicia Florrick reluctantly.
"When I took this job, I was very aware of what was involved," Julianna, mom to 2-year-old Kieran Lindsay, explains.
"I was able to say to my husband, 'The first year will be hell. You and I will barely see each other, and we'll have to get a great nanny system down, and I am going to have to work out how all my spare time will only be with you and the baby.'"
There was also the question of where the series would be filmed. A West Coast location would have been a deal-breaker, Julianna, 43, reveals, noting, "I feel like a fish out of water in L.A."
"In New York, no matter what happens, at the end of the day, I know I'm in my own home, in my own bed and with my family."
Julianna has been married to Keith Leiberthal since 2007.
Source: Times Online