Stanley Tucci Says Son, Daughters 'Don't Really Like' His Movies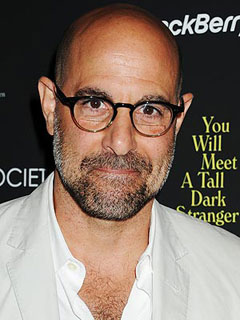 Jennifer Graylock/AP
That Stanley Tucci appears in The Lovely Bones comes as a surprise for many, considering the physical transformation the actor underwent to portray serial killer Mr. Harvey. While the audience will undoubtedly be repulsed by his actions in the film, Stanley says his real-life children Camilla, 8, and twins Isabel and Nicolo, 10, were no fans of his outward appearance, either.
"They saw me dressed up as Mr. Harvey," he reveals in a new interview. "They were like [in a high-pitched voice], 'Oooo. That's really disgusting.'"
While Stanley, 49, has said previously that fatherhood made him hesitant to accept the role, at the same time, he was up-front with his children about what the role consists of.
"I just say, 'And then the girl dies and I'm the person who kills her.' They'll say, 'Why do you kill her, Dad?' and I'll say, 'Because he's a very sick person. OK, let's go eat.'"
Camilla, Isabel and Nicolo "don't really like to watch movies with me in them anyway," Stanley adds. "I think because I'm their father they just want me to be me. When I was the bad guy in Kit Kittredge, my youngest daughter got really mad at me."
Much more Camilla's speed is "Truant Officer" — a game she and her siblings made up after watching an episode of The Little Rascals.
"I pretend to fall asleep and then they run away and I chase them and catch them. Then I put them in 'reform school,' which is the couch."
All three kids are Stanley's with late wife Kate Tucci.
The Lovely Bones is in theaters now.
Source: San Diego Union-Tribune