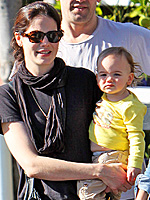 INF
In Trucker, Michelle Monaghan portrays a woman resolute in the knowledge that she is not meant for motherhood.
"I think that as women you're conditioned and you're kind of socialized to believe that you're meant to be maternal and if you're not, God forbid, that's the biggest crime in the world," the 33-year-old actress muses. "I think that makes this movie sort of interesting, that it kind of butts up against all of society's double standards."
It is not without irony, then, that Michelle herself became pregnant shortly after filming wrapped. When asked whether she feels that being a real life mom would have affected her ability to play the part in Trucker, she admits she is unsure.
"I'd like to think that it wouldn't because I think I'm able to sort of separate the two — my personal life and my work life," she muses before adding,
"But I look back at all of the roles that I've ever played and I don't know if I would have played them differently had I had them in a different point in my life. Fortunately I found out that I am maternal, so that's a great thing. But, I don't know."
Michelle is mom to Willow Katherine, 14 months, with husband Peter White.
Source: About.com