Naomi Watts Says Every Day Spent With Sons Is 'Unforgettable'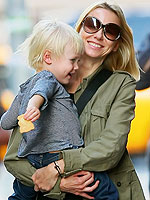 Jackson Lee/Splash News Online
Naomi Watts is a glutton for punishment! The actress — mom to sons Alexander 'Sasha' Pete, 2 ½, and Samuel Kai, 13 months — tells OK! that even the family dogs are boys. "Oh yeah, there's a lot of testosterone," she confesses. "I know — I'm desperate. In Australia, all my girlfriends, we come together and take up a lot of space."
Not that she's complaining! The Mother and Child star, 41, speaking from the Sundance Film Festival where her film premiered earlier in the week, reveals that "every day there's one great surprise after another." She adds,
"Every day feels like an unforgettable one. I have to start writing it down. There have been many milestones."
Sasha and Kai are Naomi's children with fiancé Liev Schreiber. Mother and Child hits theaters in May.
Source: OK!