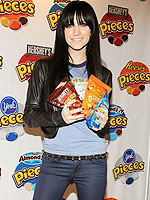 Courtesy of Hershey
With her run in Broadway's Chicago coming to a close on Feb. 7th, singer-actress Ashlee Simpson-Wentz is getting ready to pack up her belongings and move from N.Y.C back to L.A.
But first, the new mom — son to Bronx Mowgli, 14 months — took some time to talk to Celebrity Baby Blog about her son's love of forts, parenting with husband Pete Wentz and her work with Hershey's candies!
Click below for our interview!
How has the transition from living in L.A. to N.Y.C. been?
It's been great! We're just here for two more weeks, then we're headed back home. But it's been really cool. Doing Chicago has been great, and it's been wonderful to go through it all with my husband and baby.
What's it been like for your family with you working and Pete as a stay-at-home dad of sorts?
I think we have such a fine balance in our relationship because he's working too, so we've just worked out our timing really well.
What's your daily routine like?
We have Bronx on such a schedule, so it's focused around him. I don't leave for the show until 6 p.m., so I get ready and go there later, since it's an 8 p.m. show. Bronx goes to bed an hour later, and I'm home all day, so that's been really nice. Although we do eight shows a week! So Bronx comes to the theater on the weekends to visit.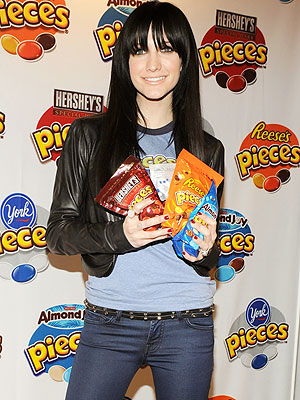 Courtesy of Hershey
How do you deal with that time apart?
He comes up and has lunch or dinner with me at the theater pretty often. He came to a rehearsal, and yelled out "Mama!" when I got onstage. It was really cute!
Do you have any help outside your family?
We do. But we're definitely a tight-knit family, and Pete and I are very hands-on. Spending time with Bronx is the best thing in the whole world for us.
Do you feel like motherhood has changed you?
Oh absolutely. It's the best thing of my life, it's helped me grow. Same for Pete. I think that being a parent in general just changes you so much.
Any products, books or toys you can't live without?
It's changing all the time. Bronx is really into all sorts of books, building forts — he's such a boy! It's a lot of fun. And he's definitely on the go, we're always running around playing games like hide-and-go-seek.
Does Bronx listen to your music?
He's definitely heard Fall Out Boy and my music, too, but we play everything for him. He gets to choose his own kind of music, but he doesn't have a favorite yet.
Would you be supportive if he wanted to go into the music industry?
Yeah, definitely! It's definitely not something I'd push on him — I want to let him be whatever he wants to be — but we'll see.
Do you think your experiences growing up in the spotlight will help him down the road?
Yes I'm sure, although we don't want to raise him in the spotlight. We try to keep our life as private as we can.
Does Bronx notice the paparazzi? How does your family deal?
I think he's just starting to notice them. It's more frustrating for Pete and me — Bronx doesn't quite get it!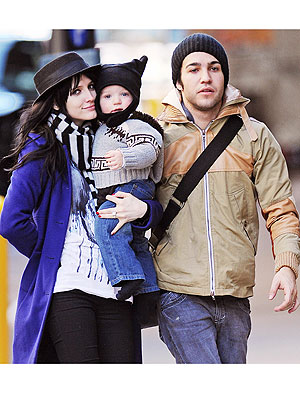 Humberto Carreno/Startraks
What's next for you career-wise?
I plan to take two weeks off for sure, just to be home and enjoy some down time. And then after that I'm going to start writing again. I'm also looking at some films.
Will you miss performing in Chicago?
I'm excited to go home, and I'm definitely ready to go home! But 10 weeks here was fun, and being on Broadway was a dream.
Tell us about your work with Pieces candy!
I'm definitely a chocolate fan! I'm a Reese's girl, I like the York Peppermint Patties, so these new bags are great to pick up on the go, because with me, I'm always on the go. But no candy for Bronx yet!
I also bring the candies backstage — it's nice to have them at the theater because you can grab a quick snack in between numbers. We love it!