Will Arnett on Fatherhood: 'It's Just the Best'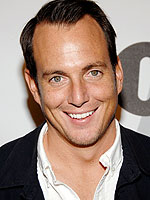 Jean-Paul Aussenard/WireImage
With two bonafide comedic heavyweights as parents, the odds are good that 15-month-old Archibald William Emerson Arnett will grow up with a healthy sense of humor. Should the opposite prove to be true, however, dad Will Arnett promises that "there will be no deaths over the matter."
Pointing out that nobody knows "what [Archie's] attributes will be like," Will — married since 2003 to Amy Poehler — says at least one thing is certain.
"He's going to find me and my wife incredibly unfunny. He'll be over us by the age of five."
All joking aside, Will says that fatherhood has been harder than he expected — but more rewarding as well. "As sort of clichéd as it sounds, it's just the best," he raves. "Because it's a human being that you're responsible for … that's scary, but even in its scariest moments it's fantastic."
Will admits that his first-time dad anxiety has led him to consider some extreme measures when it comes to keeping Archie safe!
"I want my son to wear a helmet 24 hours a day. If it was socially acceptable I'd be the first one to have my kid in a full helmet and like a cage across his face mask. I make my wife crazy with it because I'm constantly worrying, just because I know what an idiot I was when I was little."
With Amy at work full-time on Parks and Recreation, Will says that he's been enjoying the role of primary caregiver.
"It's been such a treat for me," he explains, "because I've spent the better part of the last six months writing a new TV show with [Arrested Development creator] Mitch Hurwitz and we were able to do a lot of work together from our place so I got to spend a lot of time with Archie. It's such a luxury."
Source: PopEater