Heidi Klum Takes On a New Role: Tooth Fairy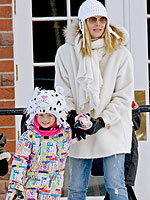 Rex Features/Startraks
She's a model, TV host, producer and a fashion designer, but Heidi Klum has taken on a new role: tooth fairy! With daughter Leni, 5 ½, having recently lost a tooth, the native of Germany — who never experienced the tradition herself as a child — was excited to play the part. However, she realized that she knew less about the job than she thought.
"I didn't know because I didn't have the tooth fairy and I wasn't going to call anyone and say, 'How much do you put under the pillow?'" she confesses during a recent appearance on The Jay Leno Show.
"So we put a $20 bill. I just heard that was a lot. What am I doing? I don't know! I did too much."
The high rate is for good reason; Heidi believes Leni wouldn't have been as impressed with anything less. "She finds money all the time, that kid has her eyes on the floor," she says. "When we're in New York for six weeks to shoot the show, she's always on the floor looking. She finds pennies and dimes so I don't know if that would have cut it."
Willing to go the extra mile for her kids, Heidi did not disappoint when Leni begged to catch a glimpse of the tooth fairy.
"She said, 'Oh, I can't fall asleep because I want to meet the tooth fairy,'" Heidi recalls, showing the talk show host a photo of the back of her head swathed in fabric and topped with a tiara.
"I said, 'Don't worry, papa and mama, we're going to wait in the closet and when she comes we're going to take a photo of her. So as soon as she was sleeping I put this thing over my head and I put this tiara on. Then we put the money [under her pillow] and took the photo."
With Jay quick to point out that at Heidi's current rate, she may have a few more takers in the house when it comes to losing teeth, the model reveals 4-year-old Henry has already alluded to the idea!
"Henry was already saying, 'Ohhh, if I pull out…" she admits, while counting her teeth.
Click below to see what Heidi finds "annoying" about nursing.

Maintaining her stance that she and her husband Seal's family is complete with the new addition of baby Lou Sulola, 3 months, Heidi's plan has worked out perfectly.
"We were hoping that we were going to have another girl so now we have two girls and two boys," she says.
As a nursing mom, Heidi explains that choosing the perfect outfit while promoting the new season of Project Runway takes skill — and a bit of last-minute adjusting!
"I was very lopsided before, one breast is always making more milk than the other side," she laughs. "It's annoying!"
The seventh season of Project Runway airs Thursdays at 10 p.m. on Lifetime.
Heidi and Seal are also parents to 3-year-old Johan.
Source: The Jay Leno Show
– Anya