Keri Russell: 'There's Nothing Like Children to Ground You'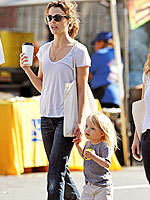 Pacific Coast News
Actress Keri Russell feels she is living the best of both worlds, splitting her time between the glam life of a Hollywood starlet and the grounded life of a Brooklyn housewife. The allure of the latter often overrides that of the former, however. To that end, Keri asks, "My house is so great, why would I leave?"
Ultimately, she says, the "variety" of opportunities presented by her professional life "keeps things balanced" with her private life. She adds,
"It is a luxury to stay at home and be a mom and cook dinner and do laundry and all that stuff. And it's certainly wonderful to come to a hotel room, sans child, and go to parties. So I feel like I have a nice version of both."
That she would take such delight in domestic life caught Keri, 33, somewhat off-guard. "It's so nice to have a home and a family, and that's really what I feel like I have now," she confesses. "That's the most surprising thing about having a family — just the stability of literally having a house, not an apartment with mattresses on the floor."
Making it all possible, of course, are husband Shane Deary and the couple's son River, 2 ½, and Keri gives credit where credit is due.
"Because acting is such a nomadic lifestyle — to have a home, there's nothing like children to ground you."
Click below to read about Keri's thoughts on social networking.
Or, it would seem, to inspire you! Keri says that being a real life mom informed her performance in Extraordinary Measures, in which she plays a mom on the verge of losing her two young children to a rare genetic disorder.
"Certainly I'm sensitive to those kinds of stories, now that I'm a mother," she notes. "Now that I do have a family, it's on my radar."
"Before when you hear about a story like this, you go, 'How sad.' But now you hear it and you think, 'That's so awful! I'm not going to recover!' Every kid becomes your kid — it's so funny."
Protecting the privacy of those she loves most remains a priority, and to that end, Keri says that you won't catch her Tweeting anytime soon.
"I don't know how to do that stuff, man … I don't Facebook; I don't know what that stuff is," she says. "Who wants to see pictures of you out drunk with your friends?"
"When we were looking for babysitters, we were Googling and we're like, 'People can see these! You're not getting the job.' It's crazy."
Extraordinary Measures is in theaters now.
Source: Toronto Sun