Chris O'Donnell: Baby No. 5 the Result of a 'Little Miscommunication'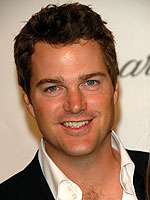 Stephen Shugerman/Getty
When Chris O'Donnell used to picture fatherhood, he did so imagining himself surrounded by five children, but when he and his wife Caroline Fentress welcomed their fourth child, son Finley, now 3 ½, the actor was willing to compromise.
"I always wanted five children, but when we got four, I was like, okay, we're done," he tells Michigan Avenue Magazine.
However, less than a year later, Chris' dream was fulfilled: the couple were shocked to discover they were expecting a fifth baby. "Five was the only time we were really surprised," he admits.
"All along the way we were strategic about what we were doing and then, uh, a little miscommunication there."
That said, the proud papa raves that the family's latest addition has simply stole his heart. "We've got five and we couldn't be happier because Maeve [Frances, 2] is such a cute little girl," he says.
Chris and Caroline are also parents to daughter Lily Anne, 10, and sons Christopher 'Chip' Eugene, 9, and Charles McHugh, 6 ½.
Chris' show, NCIS: Los Angeles, airs Tuesday nights at 9 p.m. on CBS.
Source: Michigan Avenue Magazine
— Anya