Jimmie Johnson Says Wife Suffered From 'All-Day Sickness'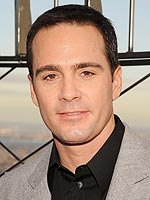 Gary Gershoff/WireImage
Fatherhood certainly hasn't slowed Jeff Gordon down, and fellow NASCAR driver Jimmie Johnson — who expects his first baby with wife Chandra in July — is hoping for a similar result.
"Only time will tell," he muses in a new interview with the Virginian-Pilot. "I think in some lives, it can slow things down … for myself, I really don't think so."
Noting that since his 2004 marriage he's fared better on the race track than he did as a bachelor, Jimmie adds,
"There's no telling what type of experience being a parent is going to be, I know I have [wife] Channi's full support to chase my career and what I need to do."
In the meantime, it's been Jimmie supporting his wife through a difficult first trimester.
"I didn't realize that morning sickness was really an all-day sickness," he quips. "It's not just that it's in the a.m." While the expectant mama has "had a rough go of it," Channi has recently begun to see the light at the end of the tunnel.
"Seems to be doing a lot better now," Jimmie reports.
Source: The Virginian-Pilot