Amy Adams Views Impending Motherhood 'As an Adventure'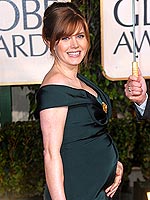 Jason Merritt/Getty
The new year will bring with it some much-needed downtime for first-time expectant mom Amy Adams. Although she's been making the media rounds to promote her new film Leap Year, the 35-year-old actress says that "work" will have a decidedly different look in 2010.
"I'm having a baby, so I'm hoping that is accomplished successfully," she quips before adding,
"I'm trying to work on my relationships. I've been gone so long. I've had relationships that have been really great and supportive, but I need to learn how to keep in touch with people better, and it will be nice to have the time to focus on other people, instead of just myself and my career."
How she'll manage that career with the demands of new motherhood remains to be seen, and Amy admits it's something she's already begun to contemplate.
"I think any woman that intends on having a career and a family, simultaneously, thinks about the challenge of balancing that, and also balancing that with the relationship and keeping that going well," she opines.
"It's definitely something that's on my mind. I'm really lucky that I have a great support team around me. I just look at it as an adventure and try not to plan too far ahead. I just do what I think is best, in the moment. It's all new to me."
Amy's baby-on-the-way with fiancé Darren Le Gallo is due this spring. Leap Year is in theaters now.
Source: MoviesOnline