Paul Bettany's Band Bonding With Kai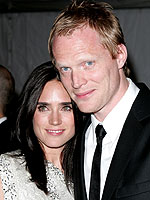 James Devaney/WireImage
Music is a longstanding passion for actor Paul Bettany, and recently he passed the torch to stepson Kai, 12.
"Every year we have a band that gets together and plays rock songs," he explains to PARADE. "This year, my stepson joined the band for the first time playing guitar."
"It was such a lovely, moving experience."
Kai's little brother — 6-year-old Stellan — prefers literature to music, but Paul is quick to clarify that books matter to Kai as well.
"Reading to both my kids has always been important," he insists. "My wife, [actress] Jennifer [Connelly], and I read to them every night." Calling those moments "the most delicious time of the day," Paul explains,
"When your child is all sleepy and cuddly and they get to snuggle up and you read them a bedtime story … It's the bit of parenting that makes up for when they're screaming and shouting at you."
For Paul, a good bedtime story is also a reminder of his past.
"My dad made a lot of stories up at bedtime," he notes. "He would create these wild stories about this elephant. As I got older, I remember him reading Lord of the Rings. My strongest memory was the moment when you think Frodo is dead and I forced him to read about 250 more pages until you realized he was okay."
Paul's new films Creation and Legion are in theaters now.
Source: PARADE