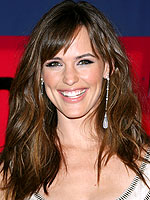 Jen Lowery/Startraks
She's spoken openly about her love of homemade baby food and of her devotion to breastfeeding, but Jennifer Garner says she'll never assume superiority over another mom.
In fact, the 37-year-old actress — mom to Violet Anne, 4, and Seraphina Rose Elizabeth, who just turned 1 — says that "women criticizing other women and mothers criticizing other mothers" is a disturbing trend she "can't abide."
"It just makes me crazy, whether it's between staying at home, going to work, how long you breastfeed, if you use formula … I feel like we should just assume everyone is doing the best they can. Women should take care of each other, not tear each other down."
She adds, "I would just like to see a mother who really believes that she has done it all so right, you know what I mean?"
One area Jennifer admittedly struggles is in her effort to balance career with the demands of a growing family. "I adore going to movie sets and being part of a team trying to create something," she says, "and yet, I hate to miss even one bedtime with my girls."
Noting that both her sisters are working mothers, Jennifer feels that although her profession is unique, the juggling act she experiences is anything but. She explains,
"I understand that my being an actress as well as being at home isn't some heroic thing. That doesn't mean it isn't confusing or difficult — especially that question of how you find a balance."
At the same time, she acknowledges that her celebrity status affords her "a lot of freedom," for which she feels "privileged."
Using her downtime to create "as warm and normal a life" as she can for Violet and Sera, Jennifer says she often draws upon her own upbringing in West Virginia, whether it's packing a lunch or baking bread.
"It's fun," she insists. "It's what my mother did; She made every meal."
Click below to read about how Jennifer keeps her marriage to Ben Affleck alive.

Making time for husband Ben Affleck isn't always as easy, she concedes, and the duo — married since 2005 — only recently enjoyed their first night away sans kids.
"You steal a date, you steal a kiss, you steal a whisper," she reveals with a grin. "You sit next to each other on the couch with computers on your laps. After the kids are asleep you … well, you know."
Jennifer's new movie Valentine's Day opens Feb. 12.
Source: PARADE
– Missy