Steal That Style: Cute Shoe Socks!
Before your little one needs real footwear, it's fun to coordinate their outfits with fun, colorful socks. And as Cam Gigandet and Kimberly Quaid's baby girls prove (Everleigh Ray and Zoe Grace respectively), socks that look like shoes are the most adorable option.
From chic Mary Janes and sporty sneakers to bohemian sandals and classic loafers, there are a loads of styles to choose from.
Love the look? Check out our top picks below!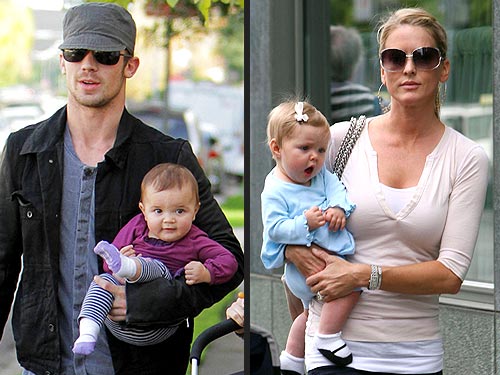 Monroe/Most Wanted; Most Wanted/Flynet
Click below for more shoe socks!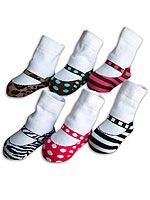 Courtesy of Psycho Baby
Splurge:
Me In Mind's Mary Jane Sock Set ($26 for six, left) take the traditional Mary Jane up a notch with fun prints like zebra, stripes, cheetah and more.
Let your little guy kick it old school with Trumpette's Johnnys ($24.50 for six). A favorite among celebs, these super soft socks — which come in a variety of bright colors — are made to look like high-top tennis shoes.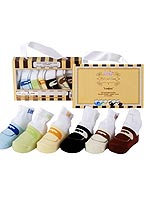 Courtesy of Bibi and Mimi
Affordable:
Like father, like son! Your baby boy will make quite the dapper dude in Bibi & Mimi's Loafers ($19 for six, left).
Got a mini ballerina on your hands? Mud Pie's Tiny Dancer socks ($17 for three) are super sweet (and pink!) — especially the chiffon ruffle detail.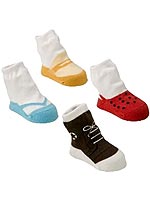 Courtesy of Target
Bargain Buy:
Target's Baberoo Organic sock set ($10 for four, left) is great if you're looking for variety. The set comes complete with flip-flops, Croc-inspired kicks, loafers and sneakers — perfect for keeping your little one stylish all year round.
With its pretty floral appliqué, Taylor Joelle Designs' Daisy socks ($5 for two) are a great option for any little girl.
— Anya