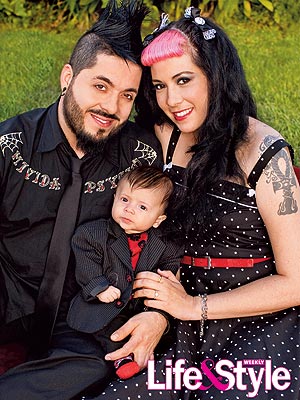 Courtesy Life & Style for use on CBB
When Destin Pfaff's now-fiancée, Rachel Federoff, asked if she could work with Destin at Patti Stanger's Millionaire's Club, the idea took some getting used to. But now Destin might have to come to terms with another family member joining the matchmaking team.
The couple's 5-month-old son, Sin Halo Jude, seems fated for camera time on The Millionaire Matchmaker, the reality series that chronicles their love-connection business.
"Every time the baby sees Patti, he shrieks like a banshee," Destin says. "She's great with him. Sin makes her want a baby."
Rachel, 32, and Destin, 35, are just ecstatic that their baby boy is finally healthy.
Sin was delivered via emergency c-section after the umbilical cord wrapped around his neck and stopped his heart. He also later suffered from digestive problems.
"It was scary and hard, but we were lucky," says Destin, who's currently penning a romantic comedy with Patti. "Now he's tough as nails — beautiful and perfect!"
And as for his unusual name, "My parents hate the name Sin Halo," Rachel admits. "But it's the yin and the yang — everybody has a little good and bad in them."
The Millionaire Matchmaker airs Tuesdays at 10 p.m. on Bravo.
Source: Life & Style