Harrison Ford a 'Much Better' Parent Now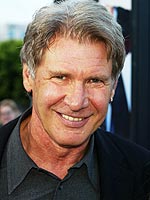 Kevin Winter/Getty
With a 33-year age difference between his oldest son Ben, 42, and his youngest son Liam, 9, Harrison Ford's experiences as a parent have clearly run the gamut.
"My first child was born when I was 25," the actor notes in a recent interview with PARADE. "Babies raising babies is not a pretty sight. I am much better at it now."
To that end, Harrison, 67, says his weekends are completely dictated by Liam and his mom, fiancé Calista Flockhart. "I do whatever [they] want to do," he proclaims.
"We'll take a couple of hours on Sunday morning to go motorcycle riding or go for a hike. I just made a birdhouse with my son."
Joking that he "inherited" Liam when he fell in love with Calista, Harrison notes that the trio have been a family unit for quite some time. "I think Liam was about 6 or 8-months-old when I met him and Calista," he points out. "We have been together ever since."
When asked whether it is an "unexpected joy" to contemplate new fatherhood again after so much time, Harrison concurs.
"Yeah…I wasn't expecting it at all. The unexpected part was certainly true. And the joy part is also true."
In addition to Ben and Liam, Harrison is dad to Willard, 40, Malcolm, 22, and Georgia, 18, from two previous marriages. His new film Extraordinary Measures hits theaters Friday.
Source: PARADE