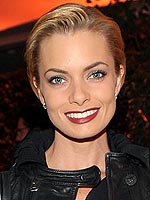 John Shearer/WireImage
This Valentine's Day may be about a whole lot more than flowers and chocolate for Jaime Pressly!
Enjoying her new life with husband Simran Singh, the actress tells OK! that the next step for the couple is to give Jaime's son Dezi James, 2 ½, a sibling. "Hell, who knows? Maybe that will be the conception date!" she laughs of her plans for the special day.
However it's not likely, she admits, noting that the couple have decided to put off expanding their family for the time being. "We were saying we would wait so we're not doing anything right this second," she says, before quickly adding, "I mean, we are having sex, but we aren't trying."
For now, their date nights are spent at home relaxing — and often cut short by sheer exhaustion.
"A date night for us is being able to get Dezi down, cooking dinner, and watching a movie and being able to get through the entire movie without falling asleep."
And once the newlyweds are ready to take the plunge, if his role in Dezi's life is any indication as to what's to come, Jaime has no doubt that Simran will shine as a father. "He is a really awesome dad with Dezi," the former My Name is Earl star raves.
Dezi is Jaime's son with ex-fiancé Eric 'DJ Cubiche' Calvo.
Source: OK!
– Anya