Victoria Beckham: Sons Are 'So Different'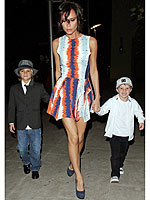 Bauer-Griffin
With a hat and some flats, Victoria Beckham says she's able to enjoy Disneyland just like any other visitor — which is good, considering sons Brooklyn Joseph, 10 ½, Romeo James, 7, and Cruz David, 4 ½, "absolutely love it" there.
"It is such a great place," the former Spice Girl, 35, exclaimed during a recent visit to Ryan Seacrest's On-Air radio program.
After jokingly offering thanks to Victoria for listening in "while carpooling," Victoria clarified that she does indeed listen "every single" morning. "The kids really feel that you're part of the family," she added. From the sound of things, its one entry on a short list of things the boys can actually agree upon! "They are so different," Victoria mused.
"I mean you've got Brooklyn who is a real boy, he's turning into a teenager. It takes him quite some time to do his hair in the morning before he goes to school. Then we have Romeo who loves fashion. He likes to go out in a suit with a bowler hat…he's a real fashion lover. And Cruz just wants to break dance every opportunity he gets."
The boys are Victoria's children with husband David Beckham.
Source: On-Air with Ryan Seacrest