Sarah Jessica Parker 'So Proud' of James Wilkie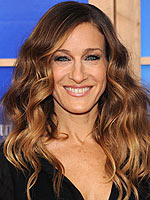 Bryan Bedder/Getty Images
A self-professed "great believer" in the Golden Rule, Sarah Jessica Parker says it is the value she most hopes to instill in son James Wilkie, 7, and twins Marion Loretta Elwell and Tabitha Hodge, 6 months.
"The idea of 'do unto others as you would have them do unto you…' I fall short of it constantly, but I try," the 44-year-old actress tells Gotham magazine.
"I've been working on it with James Wilkie since the time he was little fellow and could really understand language."
From the sound of things, the effort is paying off. "I'm so proud of who my son's becoming and how hard he works to be a good little human being," says the proud mama, adding,
"The hardest days [for your children] become your hardest days. Your most triumphant moments are when you see them feel good about themselves — to see your child learn how to read and ask questions."
Lastly, when asked to define her own idea of perfect happiness, Sarah Jessica says it's something she's already achieved: "Healthy children, a healthy husband, all in a city that I love."
James, Loretta and Tabitha are Sarah's children with husband Matthew Broderick.
Source: Gotham