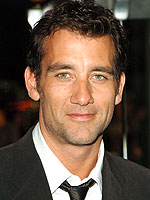 Jon Furniss/WireImage
Clive Owen always "considered being a father separate from work," he explains in a new interview with The Scotsman. "I go off and make movies; I come home, and I'm a dad and I hang with my girls."
Filming last year's The Boys Are Back – in which he portrays a widower struggling to raise his children — forever changed his approach, however. "Suddenly there was this brilliant exploration of being a father that resonated enormously with me," he reveals.
As for daughters Hannah, 12, and Eve, 10, Clive says they would like to do a little exploring of their own — with dad's movies at the top of their list! Earlier this year, Clive softened his stance and allowed the girls to see some of Duplicity — "apart from Julia Roberts and I kissing a bit," he clarifies — and the reviews were good!
"They were very thrilled to see it," he says. "They will be able to see… my work when they're 18, but I'm not happy about them seeing all of my work even then." He adds,
"It was really beginning to get to them that they couldn't see my films. They'd ask: 'Why can't we watch it? We know it's a movie!' But the idea of them sitting down and watching Closer or Shoot 'Em Up is a big no-no. Now they are putting serious pressure on me to do a kids' film."
Regardless of their curiosity, Clive, 45, says the girls remain thoroughly unimpressed by his career. "If anything they're very disdainful," he says with a laugh. "Hannah's favorite phrase at the moment is, 'If only they could see what you're really like.'"
"They think I'm a joke. A friend of my 12-year-old showed her some magazine and went, 'Your Dad's on this list, and that's weird.' And I agreed with her."
Click below to read about Clive's biggest fathering regret.
Clive goes on to reveal that he took a long break from movies when Eve was born, after struggling with feelings of guilt following the birth of Hannah in 1997.
"I thought I'd planned it well with Hannah because I had a job lined up which seemed to be a little while after her arrival," he recalls. "In the end, she was quite late, and I had to go away when she was three weeks old."
"I really regretted it afterward. It was a very crucial time, those first few weeks, and it took a long time to get that closeness back."
Keeping the focus squarely on Hannah, Eve and wife Sarah-Jane Fenton remains a priority for Clive. "There was a time when I was running round doing films back-to-back," he notes. "I came to realize that I could end up at the point when I turned around and they'd be 16, and I'd have missed it all."
Source: The Scotsman