Rachel Weisz: The Experience of Motherhood 'Can't Be Transferred'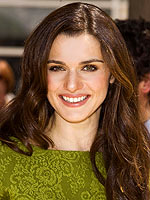 Nick Sadler/Startraks
There was never a role that Rachel Weisz felt was out of her reach as an actress — that is, until she became a mother.
"I've placed myself in many hypothetical situations through acting, but motherhood is real life. It's an experience that can't be transferred," she tells Reader's Digest. "I can get a general idea of some things — losing a child, for instance. But being an actual mother? No, that's impossible to imagine."
Calling motherhood "a purely empirical experience," Rachel is convinced that the only way to truly understand the bond between mother and child is to live through the journey. "It is one of the very few unimaginable experiences that you have to live to fully understand," she explains.
"And I mean the entire process: the pregnancy, the delivery. Becoming a mother is a fantastic experience!"
Her life with fiancé Darren Aronofsky and their son Henry Chance, 3 ½, has enabled Rachel — who believes people must learn to "separate fiction from reality" — to create a safe haven once her working day is done. Her ability to do so was even more poignant in her latest film The Lovely Bones, in which Rachel takes on the role of a mother dealing with her child's murder.
"Had I been offered the role of a mother whose child was murdered [when I was younger], I'd have ended up deeply depressed," she admits. "At this point in my career…I've learned to focus on fiction and then return to reality."
And while acting may have Rachel conjuring up emotions most would shy away from, the 39-year-old's profession has provided her with "greater freedom" as a mother. Noting that the majority of working Americans "spend most of their time at work," Rachel is grateful for her flexible schedule that includes ample time with Henry.
"Actors get longer breaks and when we do work, our children can visit us on the set. I have never lived any other life, but motherhood has been quite manageable for me."
The Lovely Bones is in theaters now.
Source: Reader's Digest
— Anya