Review: Cybex Topaz Stroller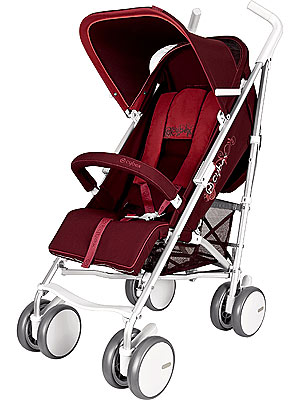 Courtesy of Cybex
Cybex is known for designing sturdy, well-made baby buggies that stars love — Sarah Jessica Parker, Anne Heche and Britney Spears are fans — so when they launched the Topaz ($260) last November, we were excited to check it out.
Click below for our review!
At 17 lbs., it's pretty compact. Plus, it's loaded with tons of great features (4 recline positions, height adjustable handles, a bumper bar, a leg rest with two positions and a one-handed adjustable central harness system) that will impress any parent.
Things We Like:
Crafted from lightweight aluminum, the Topaz is easy to put together. Just snap on the back wheels and go. Plus, you don't have to worry about little fingers getting caught — it comes with canvas hinge covers to protect mini digits.
Even though it's an umbrella stroller, it's not prone to tipping, standing up to extra weight.
It also features a sun canopy with a UV-protected window. In the summer, you can remove the side fabric panels for a cooler ride.
We love the integrated head hugger, which attaches to the harness and is removable.
The cozy footmuff is also a great add-on. It attaches with velcro to the top of the seat — which means it won't slump down. You also don't have to unhook the harness straps to put it on. It lays on the back of the seat with cut-out inserts to go around the harness straps.
Our fave feature is its versatility. When the Cybex Aton Infant car seat becomes available in the U.S. this fall, you'll be able to turn the Topaz into a compact travel system.
Things We Don't Like:
While adjusting the harness straps through the Central Harness System was easy, it took a lot of tries to be able to get it loose enough to fit my 2-year-old.
Folding it wasn't so easy at first, either. You have to push the locking mechanism up and back and then release the secondary lock by pressing down on the pedal to get it to fold down. Once I mastered it, I was able to do it quickly.
CBB rating:
Recommended for children from birth up to 44 lbs., the Topaz is a terrific option for everyday. We just wish the Aton Infant Car Seat would hit the U.S. market sooner — then it would be the ultimate travel stroller!
-– Nancy Horn