Lifefactory Debuts Soothing, Eco-Friendly Teether!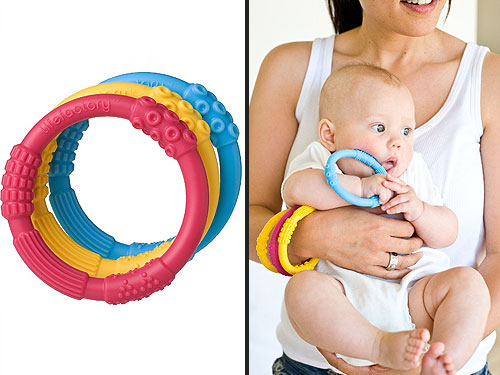 Courtesy of Lifefactory
When your baby's first choppers start coming in, you'll want to have a teether handy at all times. Try Lifefactory's new Multi-Sensory Teething Ring ($7 each). Not only does it come in fun, bright colors (sky, raspberry and yellow), but it can be worn like a bracelet so it's always close by.
Made of medical grade silicone that's BPA/phtalate/PVC/latex-free, the teethers feature four different textures (ridges, bumps, etc.) that are designed to soothe sore gums. They also help boost sensory development and develop oral motor skills. To keep them cool, put them in the refrigerator or freezer. Bonus: they're also dishwasher-safe.
Founded in 2007, Lifefactory is devoted to creating eco-friendly baby products that are also developmentally-appropriate. Make sure to check out their cool, colorful glass bottles with silicone sleeves ($12.50 to $14.50).
– Missy
CBB Deal: Get 15% off of teethers, starter kits and baby bottles until Feb. 5. Just enter code: CBB12010 at checkout.