Amy Adams Anxious to See Who Her Baby Grows Up to Be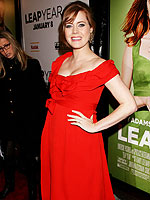 Dave Allocca/Startraks
An admitted "last minute" kind of gal, Amy Adams tells USA Today that she's not feeling overly stressed about impending marriage and motherhood.
In fact, the 35-year-old actress — expecting her first baby with fiancé Darren Le Gallo this spring — says that not only is there no set wedding date, there are no nursery plans underway either! "What I'm actually looking forward to is when my child is old enough to tell me what they want in the room," she explains. "We could do it together."
"I'm more interested in seeing who this child is, as a human being. That's what's exciting to me. I'm just so excited to see, if I have a little girl, does she want a princess room or is she into soccer?"
Digging into a plate of eggs and bacon — "emergency eating," she explains — Amy is clearly enjoying an early maternity leave.
"It's been good for me," she says. "I've benefited a lot from taking some downtime and working on friendships and really reconnecting with my fiancé."
Amy's new film Leap Year is in theaters now.
Source: USA Today