Jessica Alba Embraces 'Stretch Marks and Sagging Boobs'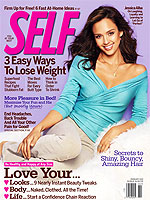 Courtesy SELF for use on CBB
Her acting career may keep her rooted in California for now, but Jessica Alba is in search of greener pastures for the future.
In the February issue of SELF magazine, the actress reveals that she has high hopes for 18-month-old daughter Honor Marie's upbringing — including relocating to the South of France. "My mother-in-law has lived there for more than 20 years, and she has a beautiful setup," Jessica shares.
"I want to be able to allow Honor and my other kids, who I hope to be blessed with in the future, to maintain their innocence for as long as possible. There is so much time to be an adult."
Until that day arrives, Jessica, her husband Cash Warren and their baby girl have settled in Los Angeles, where they are often photographed running errands or heading to a local café for brunch. Infamous for her attitude toward the paparazzi, Jessica is well-aware of her reputation and makes no apologies!
"They drive dangerously when they're following us and have caused a lot of almost-accidents. They curse, they've threatened people I've been with and they've called me every name under the sun and then taken a photo where I look mad," she explains.
"And I'm not going to walk around smiling. Nobody walks around smiling! That's weird. You're an alien if you do that."
And when she feels that the stress is getting the best of her, Jessica turns to her best dose of medicine to date: her daughter. Spending time with Honor gives the 28-year-old "instant perspective" and, in turn, motivates the first-time mom to lead by example.
"I can be hard on myself if I don't do everything perfectly. But now that I have her, there's no time for that," she confesses. "I want to teach her that you can learn from your mistakes, and if you keep moving and stay positive and loving, everything will work out."
It was her own little girl who taught Jessica a lesson in true beauty. Calling her pregnancy "the most incredible experience," Jessica has since embraced her postpartum body. "I'll take the stretch marks. I'll take the sagging boobs. I'll take the cellulite I can never get rid of," she jokes.
"If you walk around with your head held high and you're happy and positive, then all that other stuff is irrelevant. Confidence is number one."
Jessica's new movie Valentine's Day is in theaters February 12th.
Source: SELF; February issue
— Anya