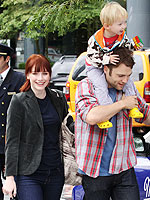 Bauer Griffin
No one was more shocked than Bryce Dallas Howard herself when she discovered she was battling postpartum depression following the birth of her first child in 2007. "It's brutal. I'm a total optimist and it was shocking to face that; I didn't expect that at all," the actress opened up during a recent appearance on The View.
"At first I called it postpartum denial because you're like, 'I just feel like a zombie,' and then it gets worse and worse."
However, having recently signed on to film The Loss of a Teardrop Diamond, Bryce's dose of therapy came in an unusual form.
"I felt really lucky to do this film because this is a character that's really struggling. She doesn't feel like herself at all and feels suffocated by the world around her," she explains. "And for the period of time I felt like I could hold on to that."
According to Bryce, stepping into the role provided her with the prime opportunity to confront her depression.
"Everything I was feeling, I could at least explore it in a character."
In addition to using acting as an outlet, Bryce admits much of her recovery was due to her close circle of friends and family. "I felt really, really fortunate because I had an incredible support group around me –  a lot of women don't," she says, adding that their positive encouragement made "all the difference in the world."
Click below to read about how Bryce's son Theo is already a film critic!

The daughter of famed director Ron Howard, Bryce laughs that this holiday season was certain to be nothing short of lively! After introducing her son Theodore 'Theo' Norman to the world of movies only a few short months ago, the proud mama reports the toddler is already a critic in the making.
"We showed him a movie the other day and I said, 'Did you like that?' And he said, 'No.' He said it was too funny," she shares.
"I was like, 'Was it silly? Was it kind of stupid humor?' He said, 'Oh yes!' I was like, gosh, that's the last thing we need in this family — someone who has another opinion about movies. But it's really good that at 2 ½ he's asserting himself artistically."
Theo is Bryce's first child with husband Seth Gabel. The Loss of a Teardrop Diamond is now in select theaters.
Source: The View
– Anya