Sarah Jessica Parker Won't Create a 'False Sense of Reality' With Children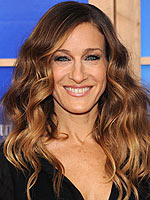 Bryan Bedder/Getty Images
Noting that she and husband Matthew Broderick "don't have problems paying the phone or electricity bills," Sarah Jessica Parker says the couple are often struck by how vastly different their childhoods were when compared to the upbringings being enjoyed by their three children.
"I'm certainly not going to complain about it," she tells the UK's Mirror. "It's very hard to raise children in this world and not give them a false sense of reality."
"Our circumstances are very different from my childhood in terms of concerns."
The 44-year-old actress welcomed twins Marion Loretta Elwell and Tabitha Hodge in 2009, and was already mom to James Wilkie, 7. While her role in Did You Hear About the Morgans? — in theaters now — was shot primarily in her adopted hometown of New York City, it also took her away on location at times, something she admits was "really difficult."
"He was in school at the time, and I can't just take him out when I feel like it…I don't think I'll do that again. It was probably worse for me than it was for him."
When she feels overwhelmed, Sarah Jessica says she take comfort in studying other working moms.
"My children are the most important thing to me — the fact they are loved and that I have created a healthy, nurturing life for them," she explains. "It's very different for me and I am so admiring of women who are working and raising children, and doing it with far less than I have. I'm inspired by them."
Source: Mirror