Teri Hatcher On What Pushed Her to Cross the Triathlon Finish Line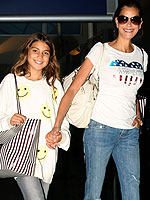 Bauer Griffin
She may have trained long and hard for her first triathlon, but what eventually got Teri Hatcher across the finish line was motherhood.
Finishing the race at a respectable two hours and eleven minutes, the Desperate Housewives actress tells Good Morning America that she actually surprised herself. "I didn't care about the time," she admits.
"My goal was to do the half-mile ocean swim, to do the bike, to do the run and not stop and not have to go to the bathroom."
The same couldn't be said for her daughter Emerson Rose, 12, however! "She was like, 'Mom, win!'" she says with a laugh. "I was like, 'Really? I wasn't even thinking of winning!'"
And while she may consider being "more competitive" next year, the experience taught Teri a lesson far more important than winning. "I think what I realized — and my hat is always off to moms, I think there's nothing harder than for women to juggle all the things we do: working, wives, motherhood, we kind of do it all — as I was training for the triathlon is the biggest thing is the psychology in it all," she muses.
Likening the race to motherhood, Teri elaborates,
"The drive of it, I'm not going to stop, I'm just going to get up and keep going is the same as a mom. I'm tired this morning, but I still got to drive to school and I still got to make the lunches. It's that same things that moms have and I really noticed that mental comparison and I think that's what got me across the finish line."
Emerson is Teri's only child with ex-husband Jon Tenney.
Source: Good Morning America
— Anya