The Name Game: Latin Lovelies
Some of the most rhythmic and romantic names around have Latin roots, but nameberry.com co-founder Linda Rosenkrantz says you need not be of Latin decent to choose one for your own baby-on-the-way.
What's more — while Isabella and Sophia remain rampantly popular — there are a variety of other monikers which are worthy of consideration. With growing frequency, Linda notes, "parents are opting for Lucia over Lucy and Mateo rather than Matthew." She adds,
"Other names, like Gianna and Giovanni, have started to rank high on popularity lists."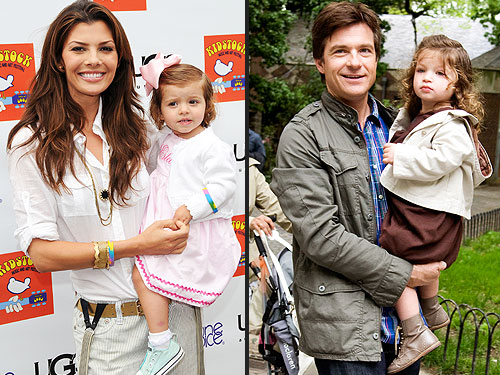 Michael Williams/Startraks; Antonie Brzostoski/INF
Celebrity babies with Latin-influenced names can be divided into two groups, according to Linda: Those that reflect one or both of their parents' ethnic heritage, and those chosen just for their appealing sound and/or image.
Among the former are Estela Ines, as chosen by Ali Landry and Alejandro Monteverde; Gia and Isabella, as chosen by Luciana and Matt Damon; Gianna Maria and Natalia, as chosen by Vanessa and Kobe Bryant; Gianni and Marco, as chosen by Jill Hennessy and Paolo Mastropietro; Giulia and Evelina, as chosen by Debi Mazar and Gabriele Corcos; Lázaro, as chosen by Gael García Bernal; Luca and Matteo, as chosen by Livia and Colin Firth; Luca, as chosen by Vincent d'Onofrio; Lucia, as chosen by Amber and Rob Mariano; Luciana Bella, as chosen by Carnie Wilson and Rob Bonfiglio, Luna, as chosen by Constance Marie, Mattea, as chosen by Mira Sorvino; Mateo and Sophia Rosalinda, as chosen by Talisa Soto and Benjamin Bratt, Matteo and Valentino, as chosen by Ricky Martin, Natalia and Santino, as chosen by Adam Corolla, Paloma, as chosen by Ana Ortiz, Rocco and Lourdes, as chosen by Madonna; Valentina, as chosen by Salma Hayek, and Vida, as chosen by Camila Alves and Matthew McConaughey.
As for the latter, we have Bianca, as chosen by Tia Carrere; Cruz, as chosen by Lleyton Hewitt; Enzo, as chosen by Annabeth Gish; Francesca, as chosen by Amanda Anka and Jason Bateman; Gabriella, as chosen by Josh Gracin; Giacomo, as chosen by Trudie Styler and Sting; Maria Adela and Eloisa, as chosen by Penelope Ann Miller; Romelo Montez, as chosen by Monica; Romeo and Cruz, as chosen by Victoria and David Beckham; Salvador, as chosen by Ed O'Brien; and Vita, as chosen by Bret McKenzie.
In addition to her work with nameberry.com, Linda has co-authored ten baby-naming books with Pamela Redmond-Satran. Their newest title, Beyond Ava & Aiden, is available now.
Which Latin-inspired names are your favorites? Which could you live without?