Matthew Broderick Reveals Approach to Paparazzi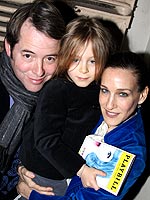 Bruce Glikas/FilmMagic
For Matthew Broderick and Sarah Jessica Parker, life in New York City often goes hand in hand with the paparazzi. That much is evident each and every time the couple walk their 7-year-old son James Wilkie to school.
"Particularly when Sarah walks him, there will be photographers that go with them the whole way," says Matthew, who is also dad to 6-month-old twins Marion Loretta Elwell and Tabitha Hodge. "I'm hoping things will cool down by the time the twins are out and about, but I don't know."
The actor, 47, keeps his cool, even though it is difficult at times. "What I try to do consciously, if I can, is to not lose my temper or anything like that because I don't want [James] to think it's dangerous or be scared," Matthew explains before adding,
"It can feel scary, guys running with big backpacks and throwing their bikes in the street and pointing their long lens at a 5-year-old. I don't think it's ideal, but I think you still have to get to school, and if you can sort of shrug it off, eventually it'll play out."
When all else fails, Matthew says that he and Sarah Jessica already have a Plan B to fall back on: "Maybe we'll move," he muses.
Source: New York Post