Billie Piper Says Winston Was Conceived 'In the Throes of Love'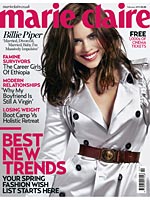 Courtesy Marie Claire UK
In the new issue of Marie Claire UK, actress Billie Piper says that son Winston James, 14 months, was conceived spontaneously — but purposefully.
"You do make an active decision that you're not going to use condoms, or whatever," the 27-year-old Secret Diary of a Call Girl star — married since 2007 to actor Laurence Fox — notes. "Then there's that 'I am so in love, I want to have your baby.'" She adds,
"It's such a hot thing, it's so gorgeous. 'We fell in love, I want you to impregnate me.' I don't know what's not hot about that. And also, making a child in the throes of love instead of, 'Oh, I suppose we should knock one out.'"
As for the location of the momentous event, Billie is equally forthcoming.
"We were in our house in the country, and we'd just got back from our honeymoon," she shares. "It was literally jet-lag sex."
Source: Marie Claire UK