Jean Smart Announces Adoption of Daughter Bonnie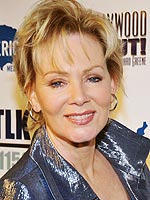 Dr. Billy Ingram/WireImage
In a Wednesday appearance on The Bonnie Hunt Show, Jean Smart revealed that her family grew by one in 2009, with the adoption of daughter Bonnie, now 18 months, from China. The actress made the trip in May alongside son Connor, 20, and husband Richard Gilliland, exclaiming,
"When I came back, there were four of us!"
The sizable age gap between her children hasn't posed a problem, though the former 24 and Samantha Who? star admits that Connor was initially "more excited about the trip than the baby."
Just a few days into the process, however, and Jean, 58, says her son was seeing things quite differently! "[Connor said] 'This is incredible….I didn't know I was going to feel this way…She's amazing,'" Jean recalls.
Adding that brother and sister are "so smitten," Jean went on to quip,
"We thought they were going to be closer in age when we first started this!"
Source: The Bonnie Hunt Show
Click below to watch a video of the appearance and see a photo of Bonnie.

Vodpod videos no longer available.