Steal That Style: Cute Winter Hats
Keeping your baby's head covered during the cold winter months is just as important as keeping their toes toasty. The fun is in picking a hat that complements your child's adorable style. Whether you go for pom poms like Bronx Wentz, animal ears like Olive Baron Cohen or stripes like Zuma Rossdale, there are plenty of options to choose from.
See our favorites below!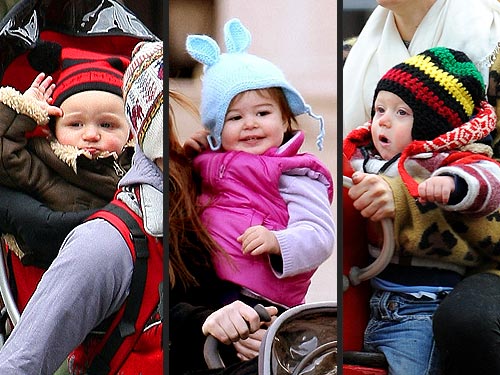 Credit: INF (2); Gotcha Images/Splash News Online
Click below for more knit hats!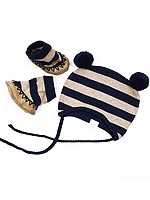 Courtesy of Giggle
Double Pom Pom Hat
Luxe: Your little princess's head and hands will stay cozy in UGG's Cableknit Hat & Mitten set ($55). Weaved with a thick cotton yarn, they're really warm.
Affordable: Not only is egg by Susan Lazar's striped pom pom hat ($34.99, left) super cute, it comes with matching booties that sport soft ultrasuede soles. Talk about comfy!
Bargain Buy: Want something more edgy? Let your mini rocker rock out in Sourpuss' Striped Pom Pom hat ($17). The skull print is beyond adorable.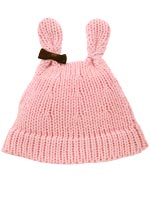 Courtesy of Gymboree
Animal Ear Hat
Luxe: Even though it's handcrafted with sashawashi paper, Modern Child's eco-friendly baby hat ($65) feels really soft. It's also lined with fleece for extra warmth.
Affordable: Beanie Design's adorable hand-crocheted bear ear hat ($28) is guaranteed to bring on the oohs and aahs at the playground. Love this style but want more protection? Coolibar's SPF 50 bear ears hat ($21.99) blocks up to 98 percent of the sun's rays.
Bargain Buy: At only $11.49, Gymboree's Bunny Sweater hat (left) is a true steal! We love the chunky knit pop-up ears — especially the satin bow detail.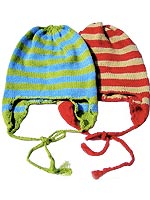 Courtesy of Yellow Label
Striped Flap Ear Hat
Luxe: Made of a plush cotton/cashmere mix, Bonnie Baby's Cuddle Me Cashmere hat ($50) is available in both pink or blue stripes.
Affordable: If you like to support local designers from around the world, these stylish striped hats ($27.99, left) from Yellow Label (an e-boutique dedicated to Fair Trade) are right up your alley.
Bargain Buy: Your little tyke won't complain of being cold while wearing Dillard's knit pilot hat ($12). The price is so great, it's hard to believe they come with matching mittens.